MozBackup Is A Powerful Tool Which Helps To Backup Mozilla Firefox, Thunderbird, Sunbird, Flock, Seamonkey, Mozilla Suit, Spicebird, Songbird, Netscape Profiles.
Mozbackup Is A Freeware Program Which Runs With Most Of The Windows Operating Systems.
Backing Up Firefox Will Help You A Lot, If You PC Crashes, Or Your Firefox Crashes After Installing Any Plugins Or Addons You May Loose All Your Important Bookmarks, Plugins, Addons, Saved Passwords, Etc..
If You Use Thunderbird, Then Its Very Important To Backup, Because If Your Profile Crashes In Any Case, You Could Loose Your Email Correspondence & Account Settings.
So Backup Your Firefox & Thunderbird And Store It On Online Storage Drives Like Skydrive, Box, Etc..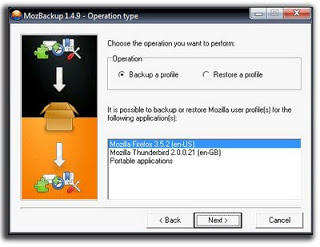 Backing Up With Mozbackup Is Very Simple:
* Download Mozbackup From Here.
* Install It On Your Computer. (No Installation Req. In Zip Version)
* Open Mozbackup And Select Application & Profile Which Have To Backup.
* Save The Backup File On Your Hard Disc.
* And Free To Restore It With Mozbackup Whenever You Needs A Restore.
alsoread: Speed Up Firefox Starting Time..