You can easily increase your Fb fans of your facebook page. Twiends has turned into a great platform for increasing your facebook fans, Increasing Twitter followers, Driving traffic to your blog or website, Increasing youtube video views.


You should not miss this great opportunity for increasing your followers and fans(facebook likes). I've almost doubled my facebook likes within two days after joining Twiends.
How To Increase Fb Fans And Twitter Followers Using Twiends?
Go to Twiends and sign up for an account.
Then add your accounts by going to Settings page.( I would recommend you to add only 1 account. Facebook fan page or twitter)
How To Earn Points On Twiends?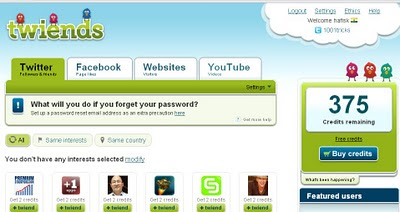 You need points to get followers, By default settings you can earn 1 fan if you have 2 poins. Earning points on Twiends is very easy.
Twiends will give you a sign up bonus of 20 points.
You can earn 40 points by filling your details.
You can earn 100 points by signing up for their newsletter
You can make points by referring others to twiends. You will get 25 points for 1 referral.
And you can earn extra points by coupon vouchers.
That should be enough to make 100 real facebook fans. 🙂