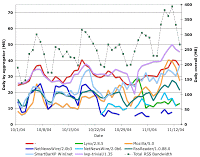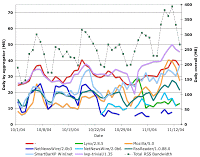 If You Have A Blog, You Have An Updates Feed, Most Likely In The Flavor Of RSS Feed, But Quite Possible In Atom Feed. This Is The File That's Linked To The Weird-Looking Orange Button You See On Many Frequently Updated Websites, Such As Blogs. These Tips Apply To Both Types Of Feeds.
Your Feed's Job Is To Talk To Other Machines About Your Site On Your Behalf. Those Bot To Bot Conversations Increase Your Traffic And Help More People See Your Site, Either Directly Through Feed Reader Subscriptions And Listings, Or Indirectly By Helping Your Search Rankings. Do At Least These Basics To Take Care Of Your Feed.
1. No One Loves RSS, Okay? I Never Actually Liked It Much, But I Always Understood That It Was Necessary To Grow My Site. Stop Trying To Hug It, And Start Having A Basic Understanding Of How It Helps Your Business.
2. If You Don't Have A Site Newsletter, You Can Use RSS To Make Your Blog Posts Into Email Newsletters, Then Put The Email Subscription Box At The Top Right Of Your Site, Or Otherwise Unobtrusively Remind People To Subscribe. Aweber Will Create Both The Newsletter And The Web Form For You Automatically.
3. About Once A Week, Make Sure Your Feed Is Validating. Sometimes All It Takes Is A Rarely Used Character In The Title To Break Your Feed. Feedvalidator.Org Will Help You With That For Free.
4. Submit Your Feed To The Top RSS Search Engines And Directories. There Aren't Hundreds Of Them As There Once Were, But For The Good Ones Remaining, Like Syndic8, The Links Can't Hurt You.
5. RSS Is What Helps Your Site Speak To Social Media Sites Automatically, But What If You Aren't Sure What Is Helping And How Often? Try Feedburner. It's My Opinion That The Service Has Been On The Decline Since Google Took It Over A Year Ago, But Before You Judge By That, Take Into Account The Height It Was At When The Fall Began.
It's Still Does A Pretty Decent Job Of Tracking Your Traffic, And There's No Need To Direct ALL Your Traffic Through Feedburner If You Don't Want To, Just Use It To Track Sites That You Give Permission To Repurpose Your Feed, Like Twitter And Facebook.
6. Google Reader.
Yes, That's The Whole Tip. Of The Minority Of People Who Use A Feed Reader To Follow Blogs Rather Than Email, Google Reader Is The Top Choice. Stick The Button On Your Site, Glance Over Your Headlines In Google Reader Now And Again. Wouldn't Hurt You To Share Some Items Over There Too.
7. Should You Use Full-Feeds Or Partial-Feeds? It's A Controversial Issue. I Won't Go Into As Much Detail About How My Private Findings Differ Wildly From Conventional Wisdom, Just Suffice It To Say This. My Solution With New Sites Is To Offer Both, And Let Readers Choose When They Come To Your Site, And Allow The Short Feed To Be Syndicated By Anyone, With A Link At The Bottom Of Each Short Feed Post Letting Readers Know You Offer Full Text As Well.
Learning About RSS May Not Be As Big A Deal As It Once Was, But Don't Forget That Your Site's Feed Is Instrumental In Helping Your Site Grow.
Hats Off To Tinu AbayomiPaul For The Useful Post
Also Read: How To Drive Huge Traffic To My Blog, Via Youtube?