[vc_row][vc_column][vc_column_text]
Facebook.com, the biggest revolution in the field of virtual social media interaction. This number one social networking website has billions of users and the company is getting only bigger and bigger. It's hard to believe a person belonging to this generation doesn't use Facebook and it definitely has a valid reason as the social platform has brought thousands of people closer to each other, it may be friends, family or some official worker. And in the process of connectivity, Facebook lets you know every action related to you via facebook notification or email.
Suggested post: Unfriend notify for Facebook
An active person may receive hundreds of notification all day long and get notified about them via email every time can be pretty irritating. Your inbox will be flooded with Fb notification emails and you may miss some important email. So most of the time people don't want the facebook notification in their email's inbox.
The simplest method to stop receiving Emails from Facebook
Follow the steps mentioned below to unsubscribe facebook email notification.
Step 1: Go to your email account & open any of the email notification from facebook.
Step 2: You will see an Unsubscribe option there. Click on that.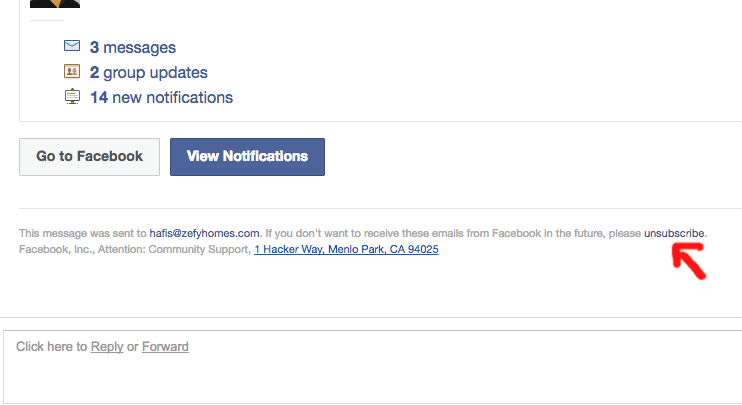 Step 3: You will be redirected to a new tab, asking for unsubscribing confirmation. Simply Check Opt Out and click Confirm to stop receiving such type of notifications or you can click on 'Manage notification settings' and choose what type of notifications to receive and what not.

Step 4: An unsubscription message will be sent to you.
Step 5: That's it. Your job is done.
2nd Method to stop getting Emails from Facebook.
Follow the steps:
Step 1: Log in to your Facebook account.
Step 2: Go to Settings. You can see Notification option on the left side, click on that.
Step 3: Under the notification section, go to Settings -> Email -> Edit.
Step 4: You will find an option 'Only Notifications about your account, security, and privacy'. Click on that.
Step 5: Now you can relax. Your job is done. You won't get Facebook's email notification further.
The SaneBox Way to Stop Receiving Emails from Facebook
Sanebox is a useful tool for managing your email inbox. It's a paid tool, I would recommend using it if you still want to receive Facebook notification emails but want to organize it in a nice way.
Without going through all the above struggles you can still unsubscribe the facebook email notification. Forget about all these notification and leave them alone, simply turn on the sane news folder of SaneBox. According to this process you will get the notification right but it won't be sent to your inbox, your server will transfer them to your SaneNews folder without interrupting your day and you can take a look at them according to your comfort & free time.
It will simply move that kind of emails to another folder so that you can check it whenever you want to do so.
Also read: How to create a poll question on Facebook
Hope this article was helpful for you. You can thank me in the comment section. 🙂
[/vc_column_text][/vc_column][/vc_row]