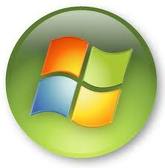 Windows Media Center is one of the features in Windows 7 that offers various facilities in various media play you like watching TV shows and movies, listening to music, enjoy photo slideshows, and more. Maybe some of you who know that Windows Media Center can also do some other things that can be very useful for you.
Convert And Copy TV Recordings To iPod:
Instead of paying Apple for broadcast TV you've recorded on your PC, it's better to copy it to your iPod and you can enjoy it during travel. Need a special trick to do it: WMC save video in DVR-MS format, which iTunes or the iPod does not recognize it. But freeware iPodifier can make DVR-MS files to iPod format with ease.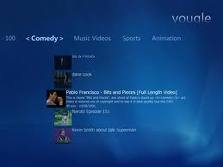 Watch Youtube And Other Web Videos On WMC:
Want to play YouTube, leaning back on the couch? Perhaps while watching some trailers latest movie? So Yougle Vista, A free plug-in for Windows Media Center, can take you to do all that. Here's how to set Yougle:
1. Download and run the installer Yougle Vista.
2. Run Windows Media Center, and then navigate to the newly added menu Yougle.
3. Click on the menu, and then click Get More Sources option. Select the source you want to add.
4. Do the same for other Yougle categories: audio, images and animations.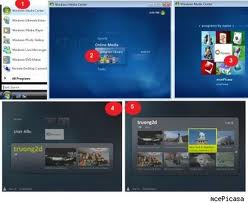 Browse Flickr And Picasa Photo Albums:
Windows Media Center can display slideshows of photos stored on your PC, but can not view your online photos. For that, use mcePicasa, a plug-in that can import pictures from Google Picasa and Flickr account. After installing it, select the menu Online Media | Program Library, then select the services you want and enter your username.