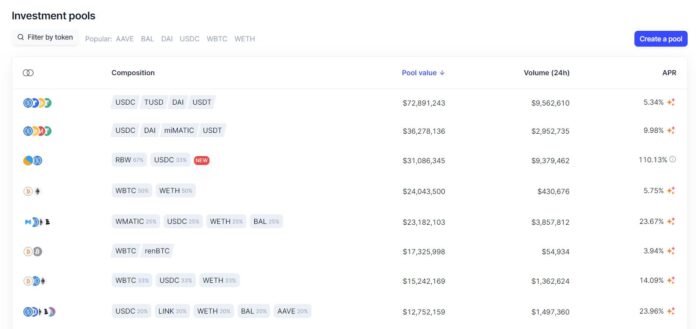 [vc_row][vc_column][vc_column_text]Did you know that with cryptocurrency, you can earn rewards, just like savings accounts that pay interest? In this article, we're going to list the top coins to stake in 2022.
Related: How to Mine Ravencoin
Staking is the process of holding coins in your accounts in order to earn interest over time. Different coins pay different rates, so below this list we've included more information about the interest rates, how it works, the risks, and more. Read below.
Best Coins to Stake in 2022
Tezos

Algorand

Solana

Ethereum 2

Cardano

Binance Coin

Polkadot

Polygon

SushiSwap

PancakeSwap
1. Tezos
Tezos is a blockchain that governs itself by establishing a true digital commonwealth. It facilitates formal verification, a technique which mathematically proves the correctness of the code governing transactions and boosts the security of the most sensitive or financially weighted smart contracts.
Tezos is an open-source, self-amending blockchain that can evolve by upgrading itself. This allows for new innovations to be implemented as soon as they are proven to be secure, without disrupting the stability of the network.
The current annual yield for Tezos (XTZ) is between 5-6% after fees. You can stake Tezos on Coinbase.
2. Algorand
Algorand is a new crypto-currency that is being developed by a company called Algorand Inc. It's based on the blockchain technology and it promises to be the most secure, scalable, and efficient crypto-currency in the world.
Algorand is based on an algorithm that doesn't rely on mining. Instead, it relies on staking. This means that all transactions are verified by stakeholders who are incentivized to do so with rewards.
The Algorand system also relies heavily on cryptography to ensure security of transactions and data transfers across the network.
The current annual yield for Algorand (ALGO) is between 3-4% after fees. You can stake Algorand on Coinbase.
3. Solana
Solana is a new blockchain protocol, designed to work with the current internet infrastructure. It is a Proof of Time consensus mechanism that uses a novel system to achieve scalability and security.
Solana staking is where an owner of Solana coins (SOL) can 'delegate' them to a validator in order to earn rewards, in much the same way you can 'delegate' your home fiat currency to a bank in order to earn interest.
According to Solana Compass, 'Staking solana will generate rewards for you based on the size of your investment – currently around 8% per year. This means if you stake 100 SOL today, by this time next year you should be the proud owner of 108 SOL.'
4. Ethereum 2
Ethereum 2 is a new cryptocurrency that is being developed by the Ethereum Foundation. The goal of the project is to create a more scalable, efficient, and decentralized version of Ethereum.
The Ethereum Foundation has not yet released much information about the project – which they are calling "Ethereum 2" – but they have announced that it will be built on a proof-of-stake consensus mechanism.
The current annual yield for Ethereum 2 (Eth2) is around 4.5% after fees. You can stake Ethereum 2 on Coinbase.
5. Cardano
Cardano is a blockchain-based project that is focused on the development of smart contracts, decentralized applications, and building a system that can be used by anyone.
Cardano is a blockchain-based project that was founded in 2015. The Cardano team consists of three organizations – IOHK, EMURGO and Cardano Foundation. The main goal of the project is to provide a platform for smart contracts and decentralized applications. Cardano also aims to solve some issues with other cryptocurrencies such as scalability and interoperability.
The current annual yield for Cardano (ADA) is anywhere from 1-8% after fees, depending where you stake it.
6. Binance Coin
BNB is the cryptocurrency coin that powers the BNB Chain ecosystem. As one of the world's most popular utility tokens, not only can you trade BNB like any other cryptocurrency, you can also use BNB in a wide range of applications and use cases. Use BNB to pay for goods and services, settle transaction fees on Binance Smart Chain, participate in exclusive token sales and more.
The current annual yield for Binance Smart Chain or Binance Coin (BNB) is anywhere from 6-8% after fees, depending where you stake it.
7. Polkadot
Polkadot is a project that has been in the making for a few years. Their goal is to create a new type of internet. The team behind Polkadot aims to create an internet that is not centralized and where every person has access to their data and can decide who they want it shared with, without having to rely on third parties.
Polkadot's blockchain will be able to connect many different networks together. It will do this by allowing all the networks to communicate with one another through the use of parachains and relay chains. They are currently in the process of developing their testnet called PoC-1 which should be released in Q4 2018.
The current annual yield for Polkadot (DOT) is anywhere from 10-14% after fees, depending where you stake it. It's a high yield!
8. Polygon
Polygon is a cryptocurrency that was created to solve the problems of scalability and high transaction fees. The team behind this project has been working on this for more than 18 months.
The MATIC token is based on a proof-of-stake algorithm, which means that the more MATIC tokens you have, the higher your chances of being able to mine new coins through staking or validating transactions.
Read the Guide to Yield Farming with Aave on Polygon (Matic Network). By yield farming you can make a variety of percentage APRs depending on how you do it. We've seen people make as much at 60% yearly! That's amazing.
Which cryptocurrencies are you going to start staking to earn passive income? Leave a comment below.[/vc_column_text][/vc_column][/vc_row]