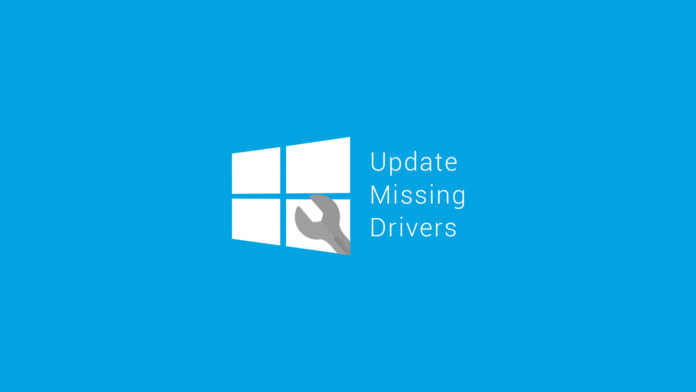 [vc_row][vc_column][vc_column_text]
Finding the hardware drivers of your windows PC might become very time consuming if you are trying to find it manually. Especially, when you are working with a freshly installed OS on an assembled computer. There are many software which provides automatic installation of newest hardware drivers, but most of them are paid software, and many of us can't afford it.
How to Find Missing Drivers for Free?
DriverIdentifier is a free software which helps us to find missing drivers and driver updates for our windows system. The software scans your computer for all installed hardware and generates a web page with all our driver updates listed.
Follow the below instruction to update your missing drivers
Visit Driver Identifier website and download the software.;
Install and run the DI software.
After opening the software, Click 'Scan Drivers'.

The software will start to scan for installed hardware and finding updates. (You need an active internet connection)
A new web page will open with all your driver updates listed.
Click on the drivers you want to install or update.
WHY IS IT NECESSARY TO UPDATE MISSING DRIVERS?
  While we always recommend you to keep your software updated for security and stability, drivers are another matter. While you should keep an eye on any security updates that pop up, different driver versions can introduce stability problems, so if your hardware is working as expected, you're better off not updating, since you never know when it might cause problems.
Updating drivers can enhance game performance because hardware device manufacturer will update the driver for their device after some new games are released. So if you want to play a new game, you are recommended to update drivers.
FEW OTHER FREE DRIVER UPDATE TOOLS ACCESSIBLE FOR ALL VERSIONS OF WINDOWS
Driver Easy
Driver Easy is another program used to find updates for drivers in Windows, and it's free for both personal and commercial use.
Schedule a scan with Driver Easy to check for outdated drivers and prompt you to download an update. A scan can be scheduled daily, weekly, monthly, when your PC is idle, or even every time you log on to Windows.
I like that Driver Easy can download drivers from inside the program without the need to open an external web browser.
There are additional features included in Driver Easy as well, like viewing hardware information and scanning for driver updates when you don't have an internet connection. There's also an online version of the scanner that condenses the program into a simple scanner without all the extra features.
Note: The speed at which I was allowed to download updates through Driver Easy was very slow – much slower than with the other programs in this list.
Driver Booster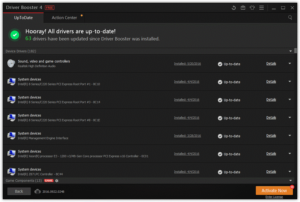 Driver Booster is the best free driver updater program. It's compatible with all versions of Windows and makes updating drivers simple.
Driver Booster can be scheduled to automatically find outdated drivers. When new updates are found, you can easily start downloading them from inside the Driver Booster program so you don't need to go out to an internet browser to grab them.
Before you install a driver, you can see how the new driver version compares with the currently installed driver, which is helpful.
I like that Driver Booster creates a restore point before installing a driver in the event something goes wrong with the installation. There's an option in the settings to install drivers in the background, which hides installation wizards and other popup messages. This is handy, so you don't have to click through so many windows when installing new drivers.
Free Driver Scout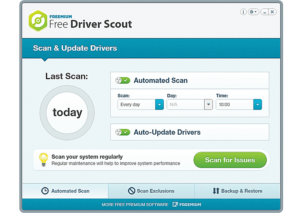 Free Driver Scout is a fantastic driver updater because it provides true automatic updating.
This means the program will automatically scan for any required updates, automatically download the updates, and then automatically install them, without requiring any input from you, which can't be said for any other program in this list.
Device drivers can be excluded from a scan with Free Driver Scout so they don't show up as needing an update in the future.
Another great feature in Free Driver Scout is the ability to backup and restore drivers. The program lets you backup some or all of your drivers and then easily restore them again if you need to.
Also included in Free Driver Scout is a beneficial tool called the OS Migration Tool. You would require this tool if you're going to install a different Windows operating system to your computer. It will find the device drivers for the new OS and save them to a custom location, like a flash drive. Then, when you have the other Windows operating system installed, you can use the same tool to restore those OS-specific drivers, so you don't have to worry about finding the device drivers again.
Note: Though Free Driver Scout is a very nice program, it didn't find as many outdated drivers as Driver Booster.
Driver Pack Solution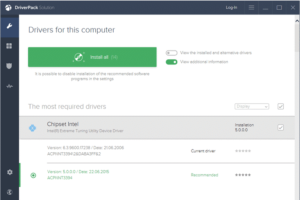 DriverPack Solution has a user interface that's easier to use than most of the others on this list. There are only a few buttons and definitely no confusing screens or options.
This program supports bulk downloads and automated installs, so you don't have to click through any installation wizards.
When you first open DriverPack Solution, you can choose to download and install all of the drivers automatically or to choose for yourself which ones you want to update manually.
There's also some basic system information included in DriverPack Solution, as well as a software downloader that can install some recommended programs to your computer.
Snappy Driver Installer
Snappy Driver Installer is another free driver updater tool that's a bit like DriverPack Solution, listed above. You can download multiple drivers at once for many different types of devices. After downloading, the program gives you immediate access to install the updates. With or without an internet connection.
Snappy Driver Installer is super easy to use doesn't even need to be installed. This means you can use something like an external hard drive to transport and install the downloaded drivers on any other computer.
Snapper Driver Installer also has zero advertisements, doesn't limit download speeds, and can install as many drivers as you need, without any limitations.
Driver Talent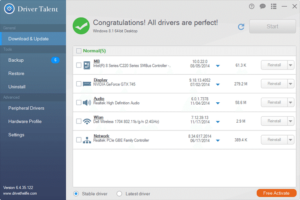 Driver Talent (previously called DriveTheLife) is a very easy to use driver updater program that lets you download device drivers through a program, so you don't have to search the internet for official download links.
[/vc_column_text][/vc_column][/vc_row]